Teamwork
The success of SGCo has been based on sound leadership coupled with a sense of belong; teamwork. All our team takes it their personnel responsibility to get to know you and your business.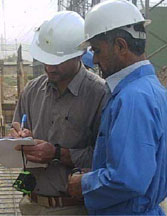 Consultancy


Consultancy is the professional body of SGCo. It therefore sets, maintains and indeed raises the standard of both professionalism and competence for the profession. It does this by first ensuring that its members work to the International codes and standards of conduct and secondly by providing an assessment procedure whereby projects and practices are maintained to the highest of standards. The award gained through this process is the High Proficiency and Standardization of Works accomplished.
This is very important to us and the industry as it provides the profession with a means of better regulation through competence. In this way, the profession as a whole can address the need to ensure consultants can and do what they say they can do. This applies equally to large and small practices as it is about how standards and knowledge of consultants work in the right and straight way; at the end, for the well-being of the works. SGCo is undergoing considerable changes in order to better serve the profession.

Leadership

Our company is always evolving to the needs of our customers, environment and as new opportunities arise we can meet the growing requirements. We have put together a diverse group of mangers who bring with them anew and bright ideas; for us a company and for the client. They have skills in multiple areas of expertise which give sour clients the most robust and thorough leadership available.

Quality Controls

SGCo designs an adequate quality control plan before starting any project. This provides information regarding the work up to the best specifications. The time schedule is a very important issue in all our projects. We propose a realistic schedule. It is our aim to complete the work ahead of schedule and above the stated requirements. We provide all the documentation that will provide a long term understanding for the customer for all the projects that we execute.

Integrity and Respect
SGCo culture is based on integrity and respect. This means holding the highest standards of ethical business culture. Our reputation for adhering to these standards is one of our most valuable assets.
Cost Accounting and Controls
SGCo manage the cost accounting, budget and compliance requirements of all its projects using its existing experience of Project Managers. Report identification and distribution lists which are well established and revised as required.

Computerized Maintenance Management Systems (CMMS)
All work order control, warehousing, inventory management and shift scheduling will be implemented through Works.

Project Scheduling
We offer a bespoke schedule of work and monitor significant tasks using software designed to build baseline mobilization schedules. The combination of systems used by SGCo will ensure accurate, timely and efficient overall management and control of costs and will ensure our client is provided with timely and accurate reporting at all levels.

Customer Relations
Our highest priority is satisfied customers and we are committed to our client's success working diligently for your business to succeed.